Identifiers for the supported Material Icons.
Use with the Icon class to show specific icons. Icons are identified by their name as listed below, e.g. Icons.airplanemode_on.
Search and find the perfect icon on the Google Fonts website.
To use this class, make sure you set uses-material-design: true in your project's pubspec.yaml file in the flutter section. This ensures that the Material Icons font is included in your application. This font is used to display the icons. For example:
name: my_awesome_application
flutter:
  uses-material-design: true

This example shows how to create a
Row
of
Icon
s in different colors and sizes. The first
Icon
uses a
Icon.semanticLabel
to announce in accessibility modes like TalkBack and VoiceOver.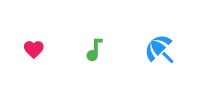 Row(
  mainAxisAlignment: MainAxisAlignment.spaceAround,
  children: const <Widget>[
    Icon(
      Icons.favorite,
      color: Colors.pink,
      size: 24.0,
      semanticLabel: 'Text to announce in accessibility modes',
    ),
    Icon(
      Icons.audiotrack,
      color: Colors.green,
      size: 30.0,
    ),
    Icon(
      Icons.beach_access,
      color: Colors.blue,
      size: 36.0,
    ),
  ],
)
See also:
Properties
The hash code for this object.

read-only, inherited

A representation of the runtime type of the object.

read-only, inherited
Methods
noSuchMethod(Invocation

invocation

)

→ dynamic

Invoked when a non-existent method or property is accessed.

inherited

A string representation of this object.

inherited
Static Properties
A set of platform-adaptive Material Design icons.

read-only