A graphical icon widget drawn with a glyph from a font described in an IconData such as material's predefined IconDatas in Icons.
Icons are not interactive. For an interactive icon, consider material's IconButton.
There must be an ambient Directionality widget when using Icon. Typically this is introduced automatically by the WidgetsApp or MaterialApp.
This widget assumes that the rendered icon is squared. Non-squared icons may render incorrectly.
This example shows how to create a
Row
of
Icon
s in different colors and sizes. The first
Icon
uses a
semanticLabel
to announce in accessibility modes like TalkBack and VoiceOver.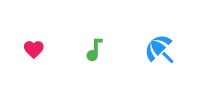 Row(
  mainAxisAlignment: MainAxisAlignment.spaceAround,
  children: const <Widget>[
    Icon(
      Icons.favorite,
      color: Colors.pink,
      size: 24.0,
      semanticLabel: 'Text to announce in accessibility modes',
    ),
    Icon(
      Icons.audiotrack,
      color: Colors.green,
      size: 30.0,
    ),
    Icon(
      Icons.beach_access,
      color: Colors.blue,
      size: 36.0,
    ),
  ],
)
See also:
Properties
The color to use when drawing the icon.

final

The hash code for this object.
The icon to display. The available icons are described in Icons.

final

Controls how one widget replaces another widget in the tree.

final, inherited

A representation of the runtime type of the object.

read-only, inherited

Semantic label for the icon.

final

A list of Shadows that will be painted underneath the icon.

final

The size of the icon in logical pixels.

final

The text direction to use for rendering the icon.

final